---
""
Engage yourself with our Modern art 3D Exhibition and allow yourself to interact with the super special illusions. Prepare to blow your mind to the beyound and unlimited
- Thai Culture :: Inspiration of an amazing Thai Culture, Tradition and Heritage. You will experienced "Thai Way of Life" and visit part of "Thailand Tourist Attractions" though our creations with a smile.
- Thai Horror :: The famous of "Thai Haunting" stories. Intense feeling fear, trembling, insanity with the unexpacted Terrors. Entertainment behinds the Unique of Thai Ghosts. No Doubt! To be a zone that you will fall in love with.
- Funny Zone :: An introduction of the creativity, influence by amusement. Innovation within enjoyment that's allowed you to be out of the box with unlimited fun.
- Photo Land :: Open a whole new world with the endless imgination from our miniature "Wide Ocean and Giant Pirate Ship" theme design.
- Thai Toys Museum :: Manifest the Kingdom of Thai Toy Collections museum. You will enjoy step back in times with our "Thai Traditional Game and Play". With a pleasure to a simplicity of "Thai Way of Life".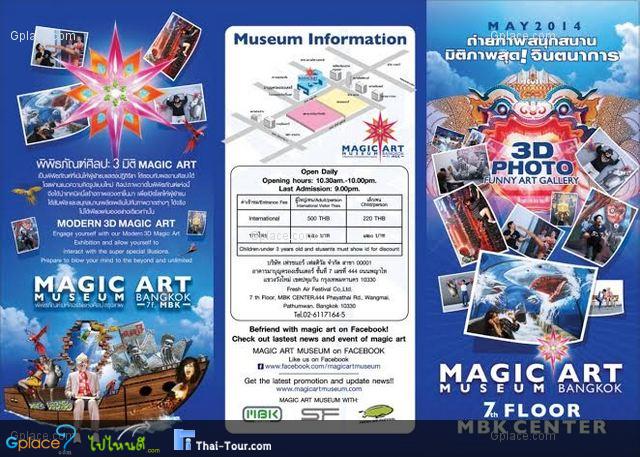 7 th Floor MBK CENTER 444 Phayathai Rd. Wangmai
All reviews
(List 0 review)
---
Hotels nearby
Nearby restaurants
Siam Paragon
(List 0 review)
ห่าง 0.52 กิโลเมตร
ล้งเล้งลูกชิ้นปลา เบ๊เชี่ยงกัง พระราม4
(List 0 review)
ห่าง 1.31 กิโลเมตร
Gateway Ekamai
(List 0 review)
ห่าง 6.63 กิโลเมตร