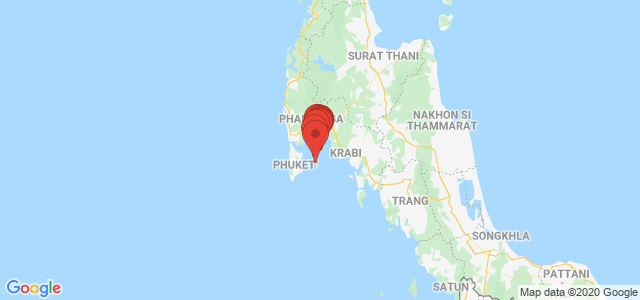 Yao Yai and Yao Noi Islands
7196
I left from Bangrong Pier (Phuket town), by a speed boat in the early morning. The boat will drop some passengers at Koh Yao (Yao Yai island) for a couple minutes then move to Koh Yao Noi which was my destination. I dropped at Manoh Pier (the main pier of Koh Yao Noi). Unless you have a big luggage, I'd suggest you hire a motorbike at the pier and you will return it here.

I stayed at Koh Yao Island Resort for a night. This is a perfect resort for the natural lover, situated right by the beach, offering a breathtaking sea view from your own bungalow. it looked quite a bit luxury and the price seemed a little high but worth of money. Find more here: http://www.choowap.co.th/hotel/koyao-island

After checking in, I hire a motorbike for 2 days to explore all about this island immediately. Pasai Beach (Hat Pa Sai) is the nearest beach, next to the resort downwards. Saibai Corner restaurant looked interesting, In the evening I should try a dinner here. Then I rode at Monoh Pier. Boatman helped shift my motorbike into a long-tailed boat so that run to the other island - Koh Yao Yai. It's amazing, never tried such an experience before.

On Koh Yao Yai, I passed a Muslim school, local restaurant, a fresh market. It's good to buy some drink and have a lunch here. On the way to the southernmost beach, you may see many typical rice paddies grown by human and water buffaloes. You may find the traditional Southern Thai houses, "Panya".

I started exploring Lo Pa Raet Bay and Klong Son Bay in Koh Yao Yai. Find their details in the links below. Then, I moved back to the resort, Koh Yao Noi, Taking an hour to trek the "Mangrove Planting" nearby, learn natural lives of plants, hermit crabs, Mudskipper (Amphibious fish), fiddler crabs, etc. My 1st day was ended at Saibai Corner Restaurant, as planed.

Unexpectedly and surprisingly before breakfast, a group of horn bills fled over my bungalows and waked me up. Hotel staff said, every day in the early morning, all hotel guests could find them eating seeds of the Banyan trees. Horn Bills in Koh Yao, http://www.gplace.com/pic/24202

I return the motorbiked and took 'Songtaew' minibus to the north of Koh Yao Noi. Thakao Beach & Koh Nok, local piers (who arrive from Krabi), fisherman villages, and in the Northwest - Holy spring water in the sea which hardly to find unless you came with the local car-driver. Having a lunch in the paddy field at Pradoo Seafood restaurant, before leaving the island.

Please feel free to give some comments below.

....End.....